Family History Restored
One family scrapbook lovingly recorded
by a dedicated family member
and preserved by another.
.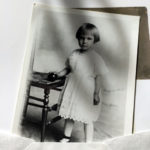 The photographs always survive.


.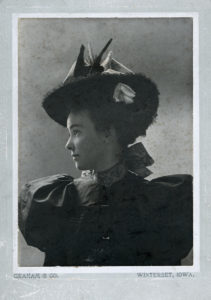 .
It was a privilege to repair and preserve this beautiful album made in 1908. Much of the physical book was disintegrating but repairable. One particular challenge was the spine. It was made of wood and the individual signatures attached between gutters carved into the spine. Very unusual construction and prohibited a standard approach of connecting the front and back covers to the spine with one piece of book cloth. Luckily, and amazingly, there was a half inch piece of linen in excellent condition still attached to the edges of the spine. I was able to graft the covers onto that piece of 100-year-old linen.
.
.
A family history restored with gratitude for an outstanding mentor.
.
My friend and artist, Dee Hansen, is the steward of this 132-page album and created a legend to go along with the scrapbook. She plans to donate the physical book to their local historical society. She will then be able to share it with other family members in the form of a digital flip book. Here are a few pages from that book:
.
.
Dee's husband, Harry (Harold) Hansen was an art professor at the University of South Carolina where we went to undergraduate school. Mark and I both benefited from his knowledge, talent, and friendship. It was fascinating for me to read some of the newspaper articles and learn about past family members who were also artists.
I'm always a bit reluctant to finish a project that is involving on so many levels; this book was challenging, personal, and historical.
.
---
.

Restoring Family Albums
Do you have a family album or scrapbook that needs repair or reconstruction?
Would you like to share that with other family members as a digital book?
Please contact me by phone 717.658.2204 or email

[email protected]
"I have loved watching Kristy go through the archiving process with my family's photo album. She was accommodating and had some options. We ended up doing what is right for my family, and now we'll be able to preserve these memories for decades to come." – Holly Czuba (Client)
"Cool project and business helping to preserve those moments for the next generations…"- Louanne Laroche
"You knocked it out of the park with this restoration project. Clement Greenberg often said that photographs get better as they get older, and this book is a perfect example that demonstrates his point. The photos of the cross-legged "Dutch" kid with the clarinet and Fannie's profile as a young girl with hat are of museum quality. I have no idea who these people were or are, but it was quite a nice kick to look at their restored pictures. I would love to see the whole thing. Well done." – John Link
.