New Work/Exhibit Higby
Person's of Privilege
One hope of people living life creating art is that your most recent work is your best work to-date. It's a never-ending evolution of clarity. One body of work informs the next. I am in that place at age 66 and understand that everything I have created to date has prepared me for this current series called Persons of Privilege. New Work/Exhibit Higby
Mint Gallery Exhibition
I recently received external support for my work via a juried exhibition in Atlanta, Georgia at the Mint Gallery. The exhibit is called "Interrupted" and feels like a perfect fit for eight of my new pieces of small metals; jewelry for the rest of us. The opening is this Saturday, March 31. Jiha Yoon juror's comments below:
Interrupted, MINT's 5th Annual National Juried Exhibition, opens March 31st!
Artist Statement
Persons of Privilege is a series that addresses an effort to understand current events. I'm examining internal structures and institutions of our American culture from the 1950's as a cautionary tale. That was a time in our history that supported white male privilege, sexism, heterosexism, and racism and therefore set the stage for a great effort to undo it. During my lifetime a lot was undone. There has been steady progress in the area of human rights, not leaps and bounds, but persistent and forward. That emphasis on inclusiveness and empathy was my foundation. Watching this hard-earned progress unravel has created a need for me to understand.
Persons of Privilege
I'm working in small metals that function as wearable art 'for the rest of us.' In the center of the Persons of Privilege metaphorical spiral is the white male in a position of power who sometimes preys on those who are not. This series functions as body adornment meant only for people within the spiral but outside of the center experiencing varying degrees of marginalization, discrimination, and abuse.
"…no need for silence."
Life altering events make it hard to carry on as usual. Tony Morrison writes of the brokenness of the world, past and present: 'this is precisely the time when artists go to work. There is no time for despair, no place for self-pity, no need for silence, no room for fear. We speak, we write, [we make] we do language. That is how civilizations heal. Life failure, chaos contains information that can lead to knowledge – even wisdom. Like art."
I began this series five months ago. The source imagery and material come from antique copper etching plates from the 1940s and 50s. These images represent a primary source of my lifetime. In my need to understand, it makes sense to start at the beginning.
---
• Update #1: Here is a note and a link to photos from the opening of Interrupted. Mark and I were in Atlanta this weekend attending the opening of Interrupted at the Mint Gallery. Artist, Jiha Moon juried the show and put together a grouping that was exquisite and gelled under the title, Interrupted. She was very supportive of my work and told me that it struck the challenging balance of having a social and political message but was also open and friendly. We had a great time connecting with old friends and making new ones. The art spirit is alive and well in Atlanta;, particularly at the Mint Gallery! They are clearly dedicated to the cause. Impressive. The show is up until the end of May.
•Update #2: Here is a link to the April 12, 2018 ATL/NPR review of Interrupted. The review is text and audio.
---
I'm also making some vintage brooches and necklaces. I plan to add a page to our website to offer some available for purchase. This Instagram link has all 30 pieces. https://www.instagram.com/mountainteastudios.higby/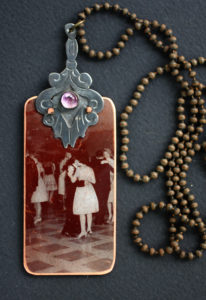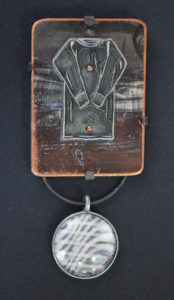 ---
Hope to see you in Atlanta this weekend!
New Work/Exhibit Higby
New Work/Exhibit Higby
New Work/Exhibit Higby