Leaving My Day Job
Last Thursday, I said goodbye to my teaching career after 41 years.
Many years ago I learned to be a teacher at summer camp. I was a camp counselor for six years from 1972 to 1976 (and a camper for at least seven years before that). It is where I began to understand that working with kids was meaningful. I went to the University of South Carolina, majored in art, and settled on a goal to make art and have a day job teaching art.
My first real classroom experience was in graduate school at Western Michigan University in 1977. There was no formal training. They pushed me out on the teaching stage with just a textbook. It was an awkward moment for all concerned. I stunk up the room, but somehow no one was harmed.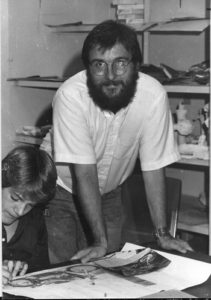 My first full-time teaching gig was on Hilton Head Island, SC. I taught the Upper School while Kristy taught the Lower School at Sea Pines Academy. Teaching 7-12th graders art was a challenge and a joy-but my goal was to teach at the college level.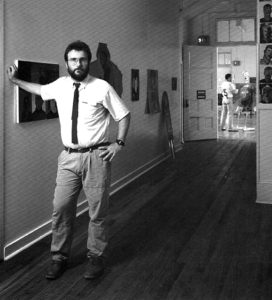 Soon, I moved on to teach painting and drawing at Savannah College of Art & Design. There I figured out that teaching and selling were very much alike. The audience was tough and skeptical at first. I always believed I would win them over in the end, and I did. This is where I gained my "theories" of teaching. (How many times have I said "chaos to order" over the years?)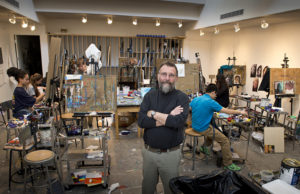 In 1991, my "career" job was landed. We were hired to team-teach at an amazing place, Mercersburg Academy in rural Pennsylvania; a college preparatory boarding school of 9th through 12th graders. It was more like a small college than a high school. We found it all-encompassing and supportive. You not only taught, you worked, ate, and played with the students-almost 24 hours a day. I had found a way to combine my camp and art life in one job! It was truly an amazing twenty-three years.
Sin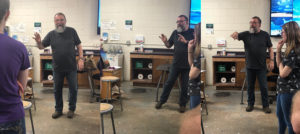 ce fall of 2014, I have been fortunate to teach painting back on the university level at USC Upstate in Spartanburg, SC. My old buddy from undergraduate days, and now departing Department Chair, Jane Nodine, saw me worthy enough to offer a staff /faculty job combination as we moved to the Asheville, NC area. It was nice to be back on the college level. Even though I commute from Asheville to Spartanburg (75 miles one way!), it has been a wonderful teaching gig.
Now it is time to end teaching. I want to quit while I still enjoy it. The decision to stop has been coming on over the last two years. The time seems right. I will remain with Upstate as a staff member installing exhibits in the campus gallery (Ironically, it is the same job I had as a student at USC back in 1973).
To the students that I taught in grad school, I humbly apologize. Hopefully, I didn't do too much harm. To the rest of you that I have taught over the years, I hope you had fun and made something you didn't know you could when you entered my class. It has been a privilege to see you grow and explore. I certainly grew because of you.
---
"Oh, this is so wonderful to read. What an amazingly well-balanced teaching career. ;D Not to mention the thousands of people who I know must feel exactly like I do about learning from both of you, Mark and Kristy – that you've had an irrevocably profound impact on our growth. Love you both.  Holly Czuba