Giving Voice: Memoir and Film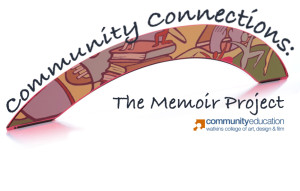 A Community Connects
I recently edited a project that gave voice to 'participants who are often underserved by the arts community including people of color, people with disabilities, children, seniors and those for whom English is a second language.'
The Community Education Department at Watkins College of Art, Design and Film, Nashville, TN (where Morgan teaches) wrote a grant for this extensive project led by teaching artists.
I was pleased to help out and inspired by their goal. Hearing someone's story told in their own voice is an intimate and enlightening experience.
I want to share this will all of you. You may be inspired to do something similar in your community. If so, let me know and I will put you in touch with the project coordinator at Watkins.
Below is a shortened version of the 30-minute video.
---
---

Project Overview:
Watkins will host a series of workshops focusing on writing short-form memoirs and creating short films. These workshops would involve participants who are often underserved by the arts community including people of color, people with disabilities, children, seniors and those for whom English is a second language. Participants will learn how to write a brief, but descriptive personal memoirs based on the writing prompt, "What is your favorite memory?" Teaching artists will lead participants through several creative writing exercises, provide techniques and definitions, and inspire ideas through previously completed works. Participants will then learn how to creatively and effectively document these memoirs through the film. Each participant will create their own video memoir and film/direct their fellow participants in small groups and pairs. Local documentary and narrative filmmakers will teach participants key concepts such as composition, lighting and camera skills. They will show participants how these and the role of a director or cinematographer can affect the story created. They will also complete basic editing and help facilitate a screening culminating the project. Watkins will create a website with the videos made and information on how to generate your own documented memoirs outside of the project.
Our goal is to empower participants to know their voices and stories are important while also teaching artistic skills and possibly inspiring a creative practice. This is a project several of our regular partner organizations have requested as a way to preserve memories and stories from their members. We have reached out to several teaching artists via email and secured interest in participating. Several teaching artists come from our regular pool, but we also specifically sought new teaching artists who reflect the community we would be serving including people of color and senior citizens.
Megan Hardgrave
Director of Community Education