Explore Asheville Mountain TEA Studios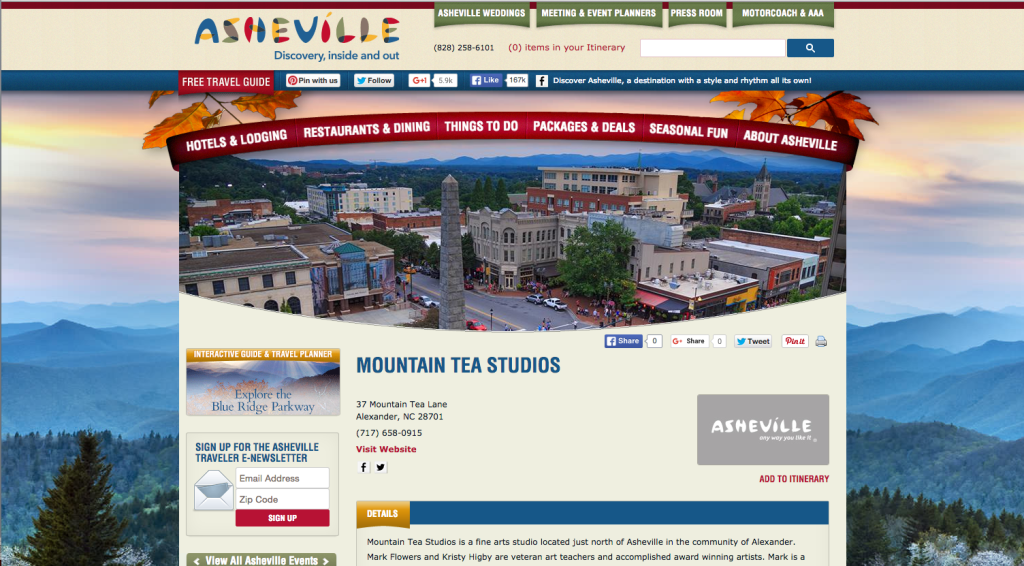 We were pleased to discover that the Explore Asheville website features Mountain TEA Studios among their Things to Do in Asheville listings. They just rolled out a new website design. Looks like a great Asheville resource.
From their website:
'Mountain Tea Studios is a fine arts studio located just north of Asheville in the community of Alexander. Mark Flowers and Kristy Higby are veteran art teachers and accomplished award winning artists. Mark is a painter of narrative images and Kristy is currently a documentary filmmaker'.
ABOUT ASHEVILLE * ASHEVILLE: EDGY, ARTSY AND INVITING
Asheville is that type of unique, special place that lingers sweetly in your mind and memories for years to come. The city's rich architectural legacy with its mix of Art Deco, Beaux Arts and Neoclassical styles is the perfect retro-urban backdrop to the edgy energy that emanates from the locally owned-shops and art galleries, distinctive restaurants and exciting entertainment venues. Known as an art colony, a healing resort and a home to notable luminaries, statesmen and bohemians, Asheville is one of the most welcoming, vibrant cities in America.